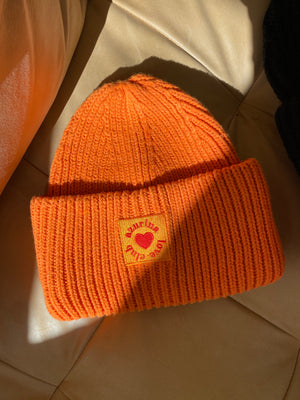 What you need to know
Our brand new wool mix beanie is part of our Azurina Love Club & with a chunky ribbed stretch knit design it's the wardrobe staple everyone needs. Whether you're riding in a soft top car and want to avoid the Bridget Jones look, covering up 6 month roots (no judgement here) or wanting to make it to 5 days without washing your hair, this is the super-cute handy essential that has your back all year round.
Available in: Cream, Pink, Blue, Red, Bright Green, Lilac and Black
The 411:

Wool Mix
Chunky ribbed stretch knit
Azurina Love Club embroidered patch
Wide turned-up brim
The Measurements: H25cm*W23cm
Free gift Wrap On Request
Our packaging & note cards are 100% recyclable (yep, even the tape!), we use eco-friendly, vegan ink and once you've recycled our (biodegradable) box, it can be remade and reused in just TWO weeks. ALL. THE. GOOD. STUFF.